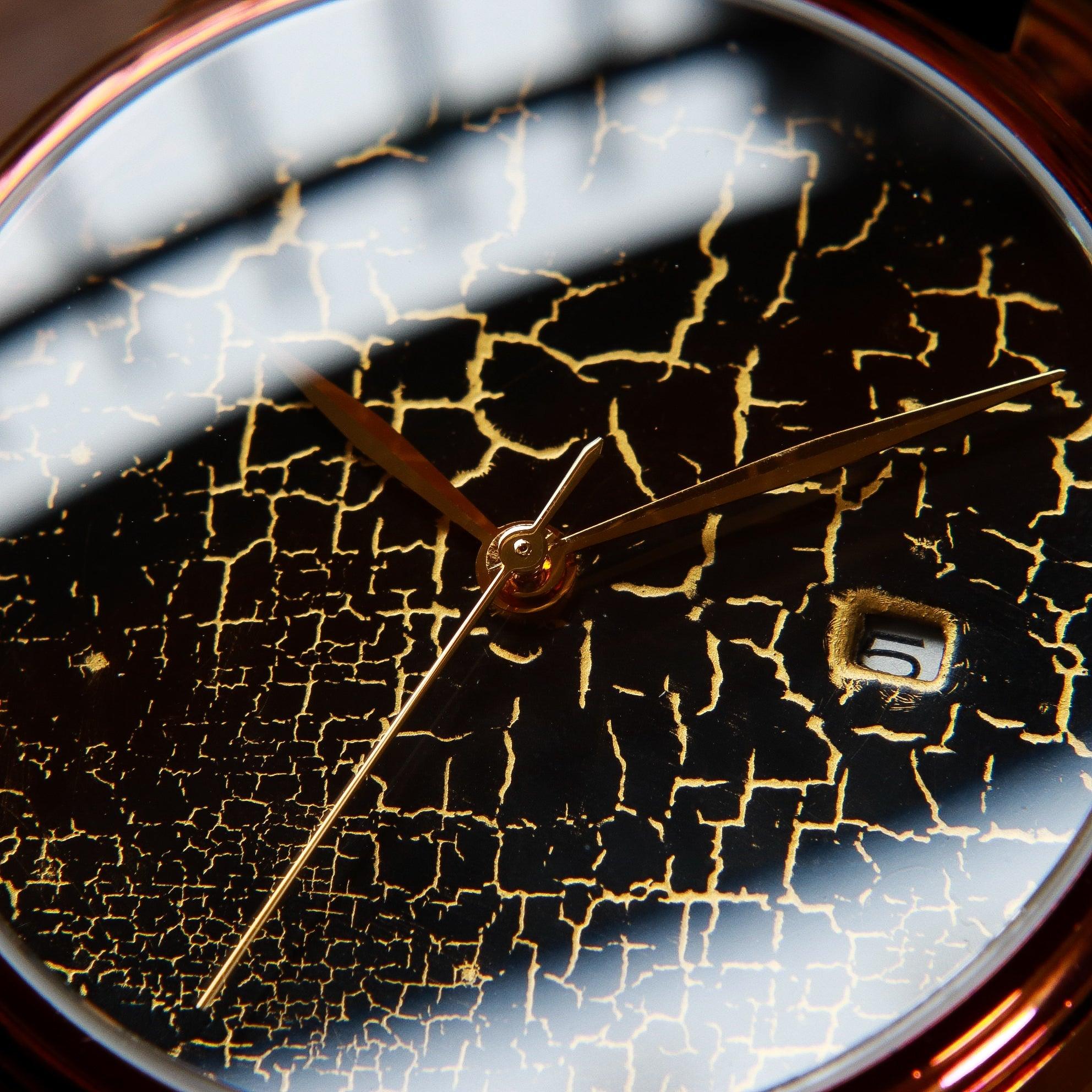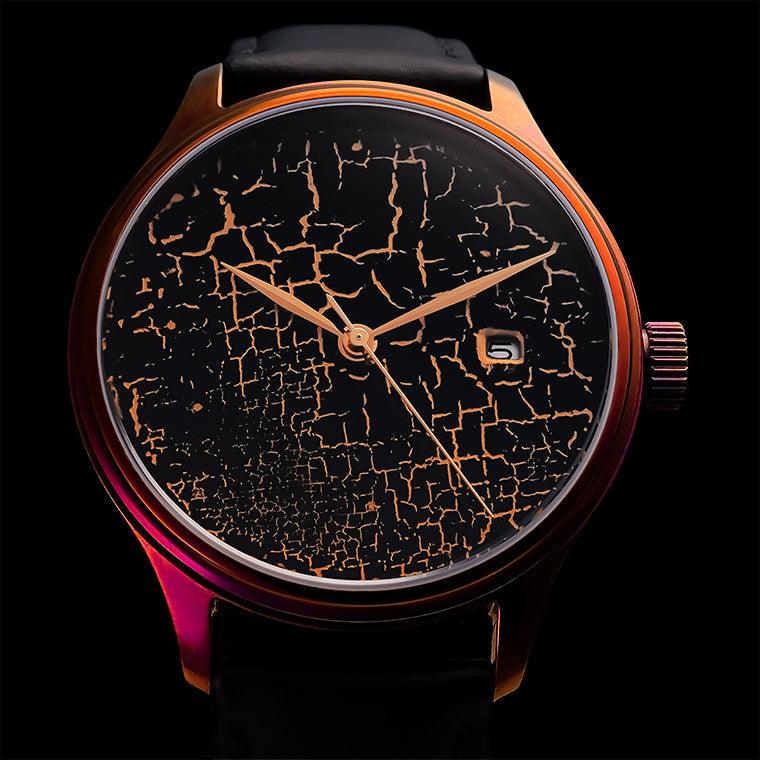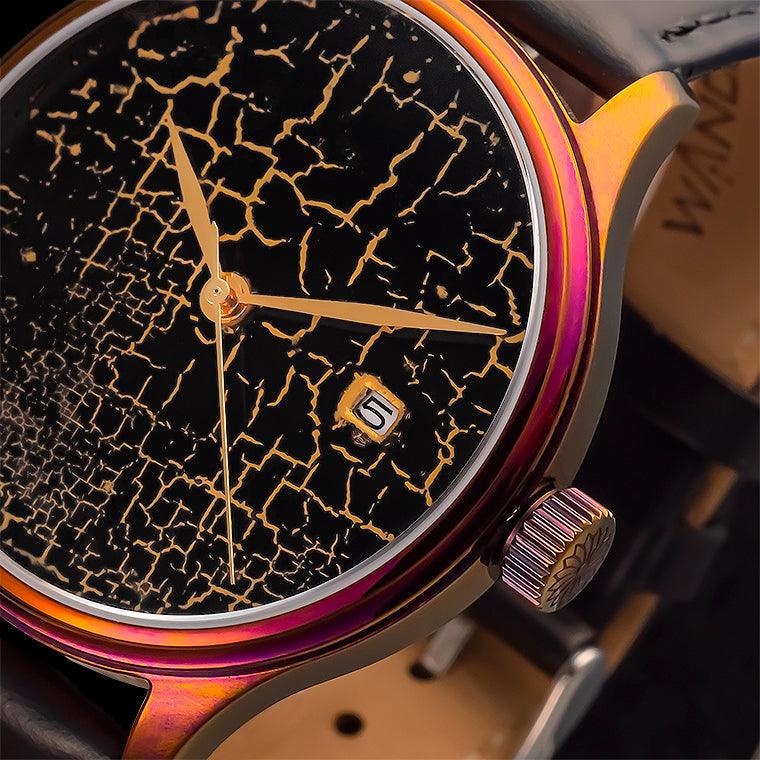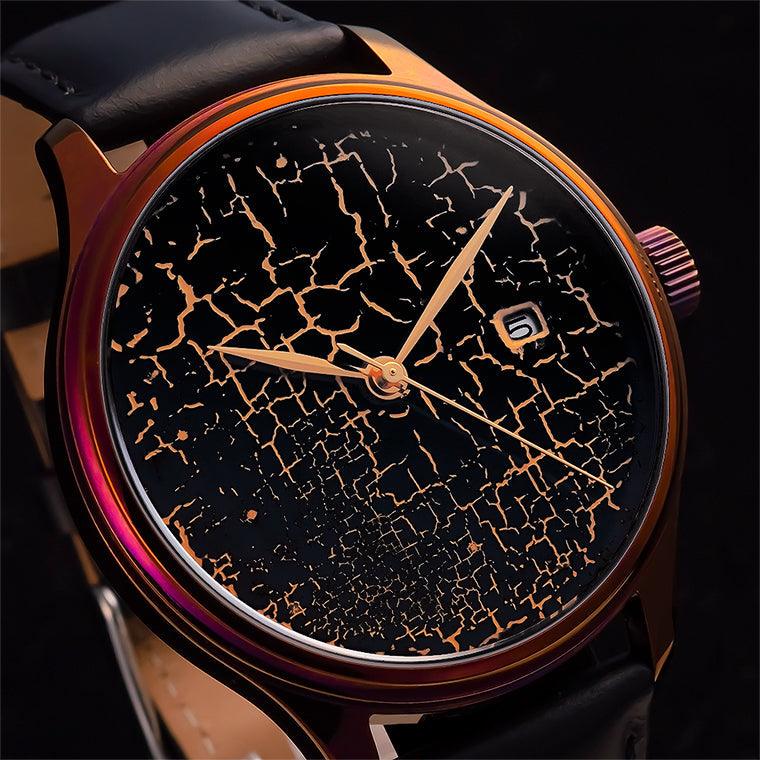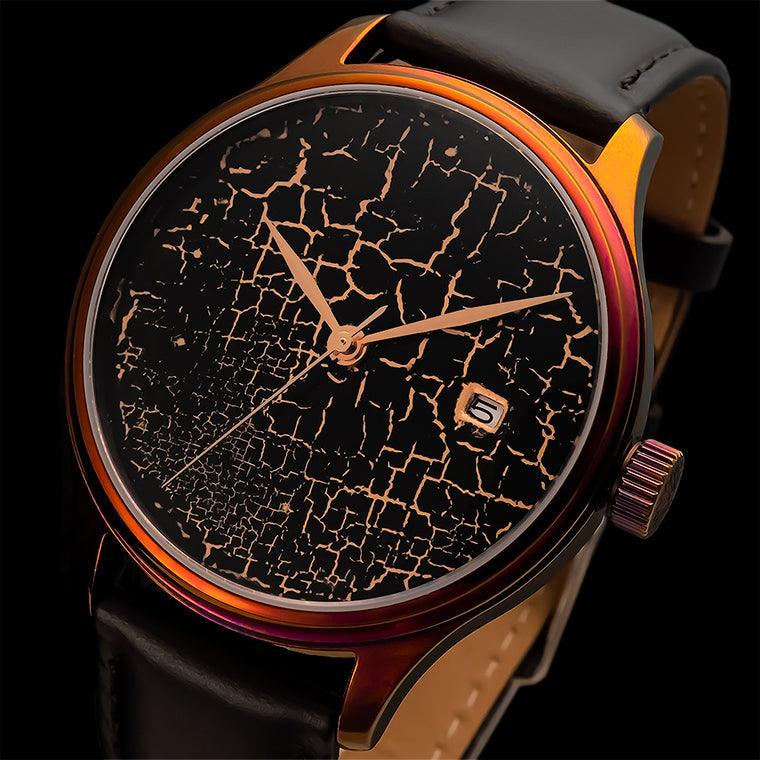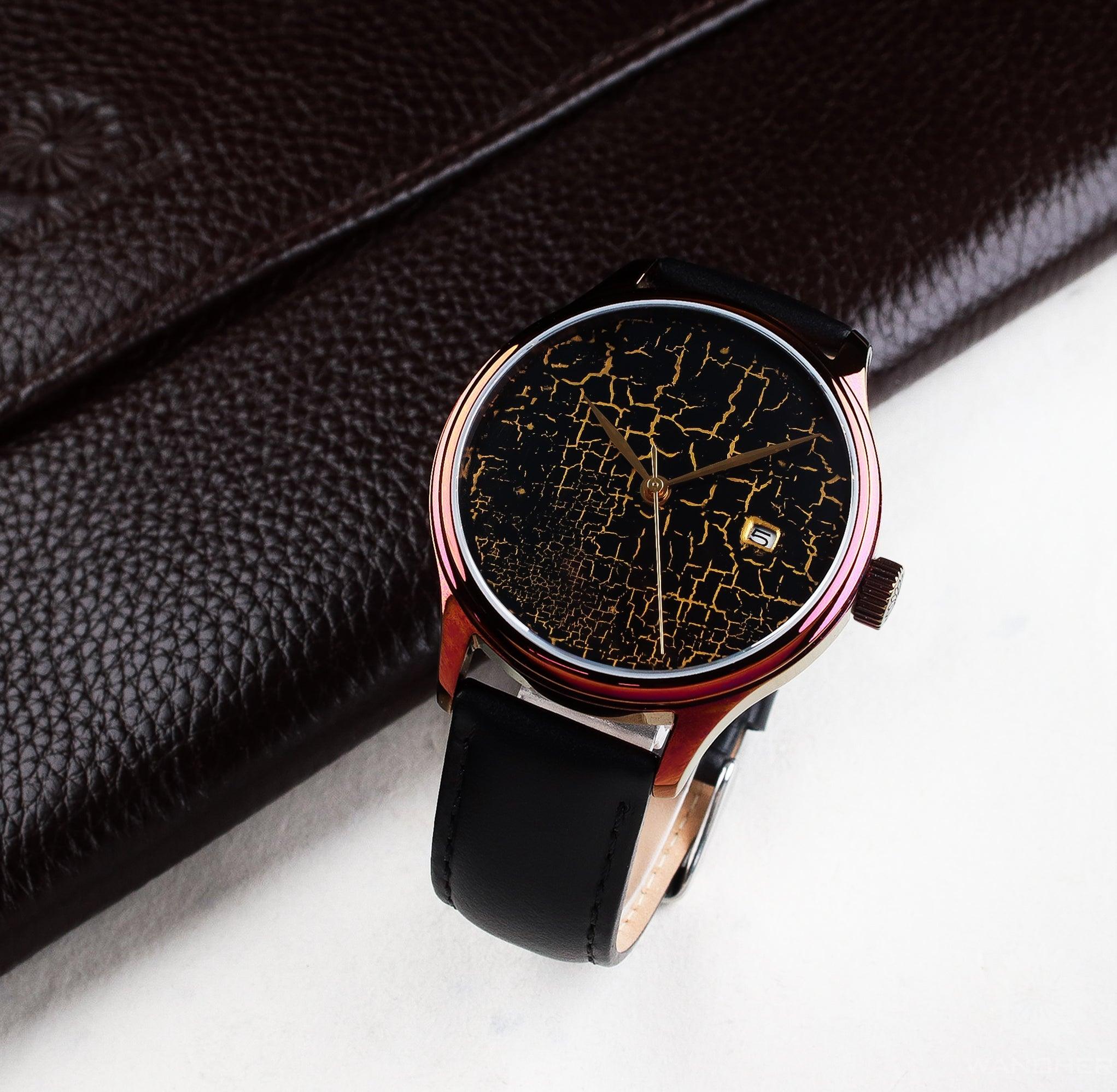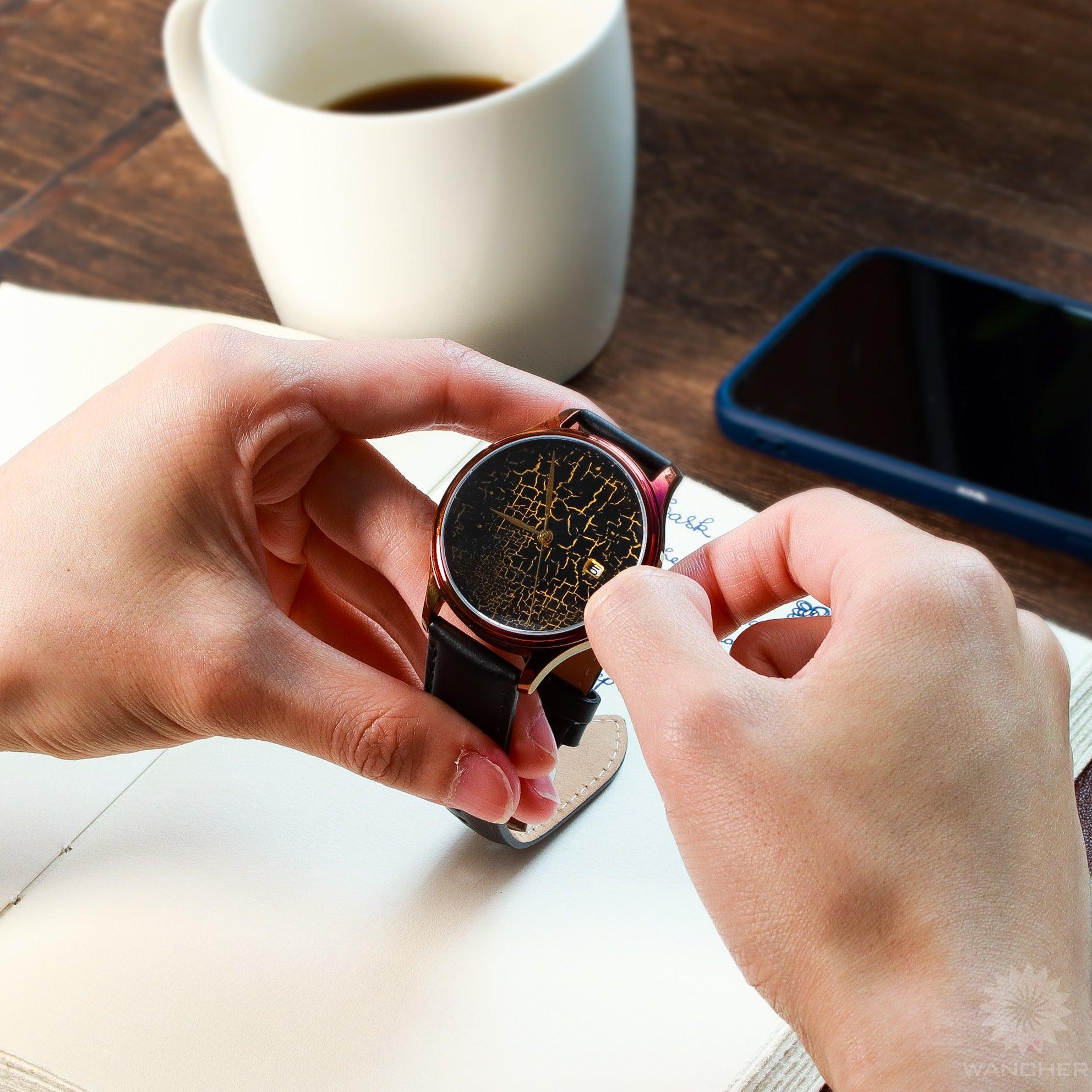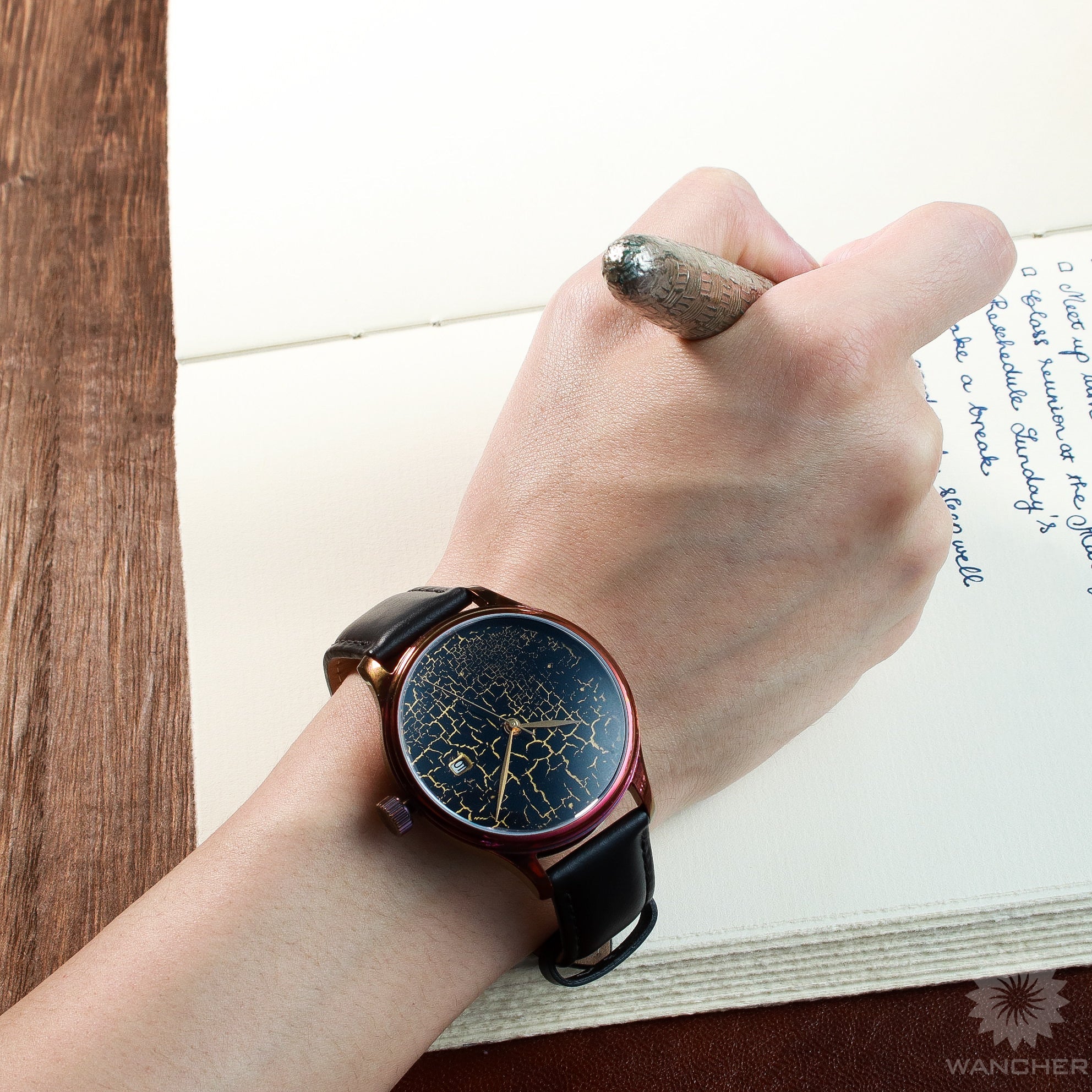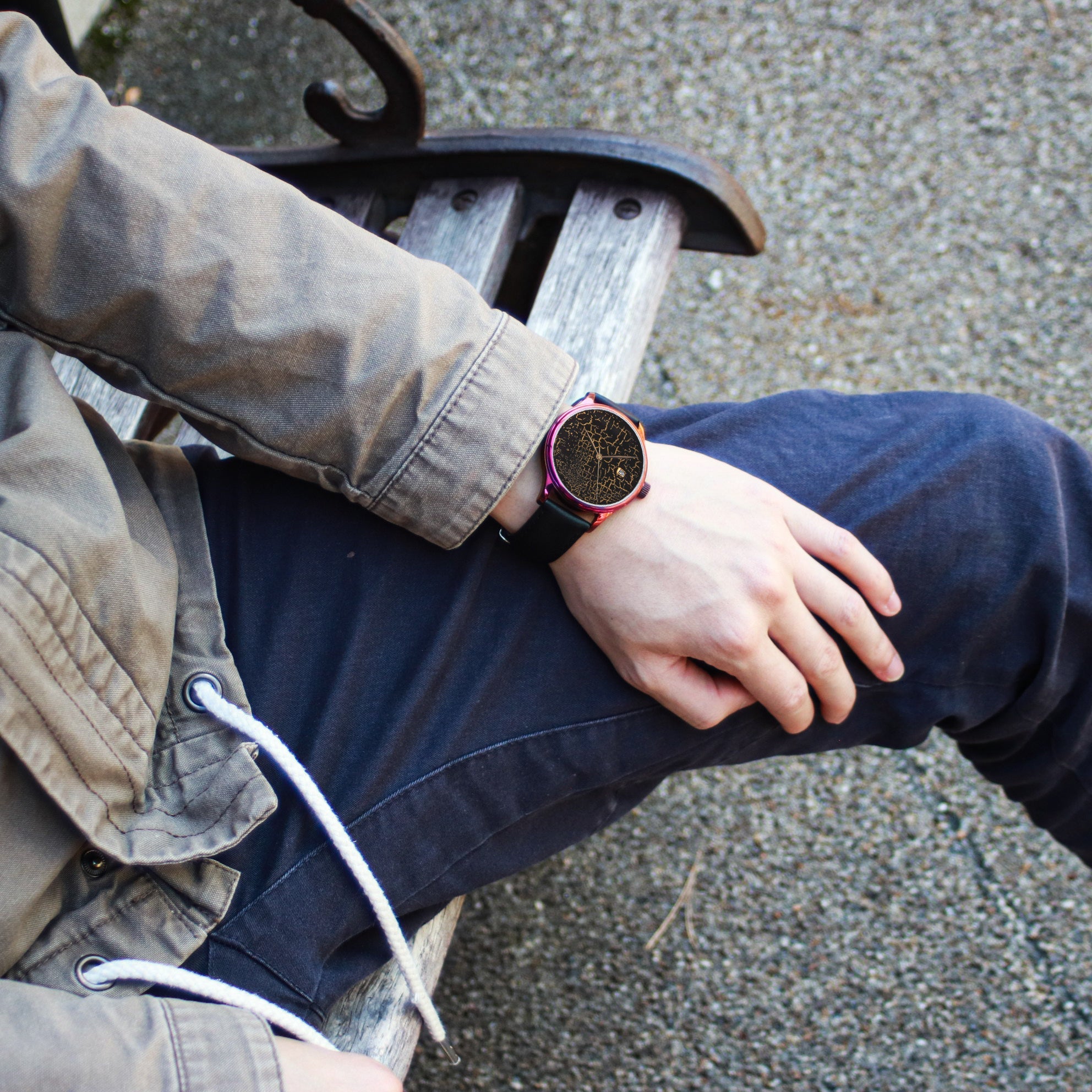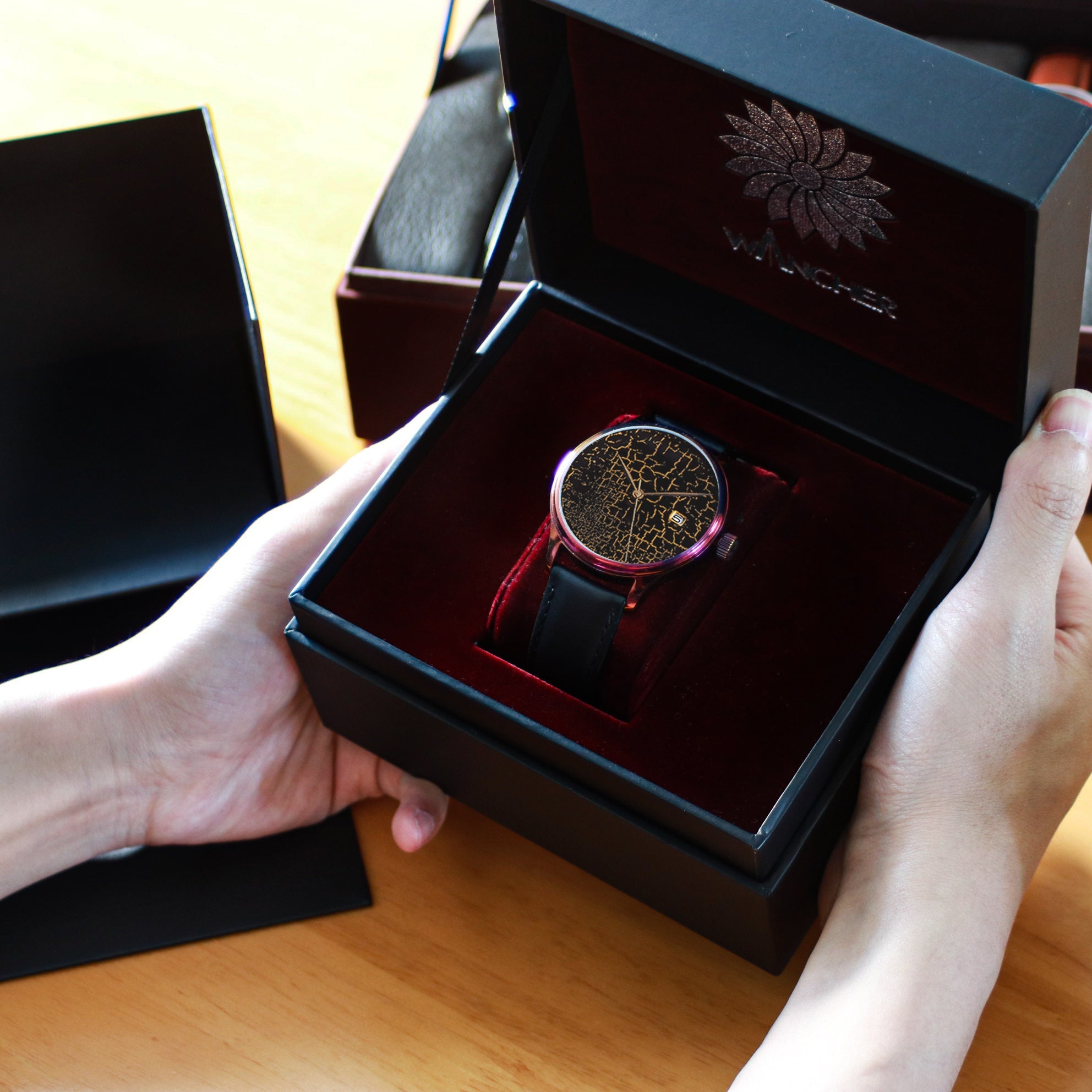 Dream Watch II - Hirota Hibi Nuri
Specifications
DIAL ART
Hirota Hibi Nuri
MOVEMENT

Caliber Number

Miyota 9015

Type

Automatic Self-winding Mechanical Movement

Accuracy

 -10 to + 30 seconds per day (posture difference: under 40 sec)

Frequency

28800 vph

Power Reserve

42 hours 

EXTERIOR
Case Material

Stainless steel

Case size

Thickness: 12mm, Diameter: 42mm

Crystal

Domed Sapphire Glass

Bezel
No
Luminosity
No
Clasp

Buckle type

Crown 

Pull-out type

OTHER DETAILS
Water Resistance

5 ATM


* Designed to withstand up to 5 atmospheres in a stationary state only

Body Weight

68 g

Arm Circumference

22 cm


Belt

Genuine Cowhide/

Galuchat

Belt Lug Width
20 mm
Accessories
Instruction Manual, Warranty Card
Warranty Period
One year from the date of original purchase


The Art of Dream Watch
Following our journey to discover and preserve the traditional art, we present you the Dream Watch II- The second model of the premium Japanese watch with the high-precision machinery, exquisite movement, and true craftsmanship.
Concept Behind The Dial
Dream Watch II is the second iteration of the Dream Watch series that features an even more unique and eye-catching Urushi dials. 
The Unique Golden crack lacquerware design in this watch is handcrafted by Master Urushi artisan - Hirota, with the aim to recreate a timeless sense of Japanese history, tradition, and art that is beautiful and artistically elegant to the eye
By using the "Hibi-Nuri" Japanese lacquerware technique, Master Hirota was able to create the "Golden Crack" on the dial. This technique was also known as the "Kawari Nuri" changing lacquer. Master Hirota's craftmanship work can also be seen in Wancher Pen's Dream Pen collection - Hirota Urushi which features a similar attribute to the Dream Watch II - Hibi Nuri
Hibi Nuri Lacquered Watch Dial
Each piece of Hibi Nuri is carefully crafted by the lacquer master "Yoko Hirota". She discovered the literature of "Hibi Nuri" from what her grandfather left. Over the next few years, she learned this technique by herself, and after times of trials and errors, she finally mastered this technique.
Due to the complexity of the procedure, mass production is impossible, it takes considerable time to complete each dial. By applying the egg white during the drying process, the fine cracks will be stood out on the surface. The cracked patterns are created over time and effort. Each timepiece is one-of-a-kind, it will be your own special watch.
Japanese lacquerware has a long history and tradition, is elegant and glossy by applying lacquer repeatedly. Wancher Dream Watch II is a wristwatch that enhances the dignity of the wearer, where you can feel that kind of gentle texture of lacquer in your daily life.
This dream watch has the advantages of both accuracy and durability. It equips a 28800 vibration Japanese movement. This high-performance movement has made it worthwhile for a lifetime, a watch" which will be passed down to the next generation."


Meet the Master Urushi Artist behind Hibi Nuri Dials:
Hirota Yoko
A lacquer artist who is the only regular member of the Japan Kogei(Art) Association in Kyushu. She has won various awards using techniques such as combing lacquer. Many of her loyal users are celebrities.
Watch Reviews
Take a deep dive and analysis of the watch from the perspective of the watch industry's influencers and bloggers. Link and their profile in the description below 
1. watchboysg https://watchboysg.com/
Youtube: https://www.youtube.com/c/WATCHBOYSG
Instagram: https://www.instagram.com/watchboysingapore/
Youtube Review Link: https://www.youtube.com/watch?v=RWa8MwrI44w




1. Handling time for orders with in-stock items is 3-5 business days.

Shipping will commence after we finished our standard 5 day watch testing. So in total your watch should arrive at your door approximately 10 working days

2. Delivery time varies by destination. It might also be prolonged upon special request of customization.

3. Orders which are placed during weekend or national holidays will be processed on the following business day.

4. The expected shipping date for pre-order items will be different from the normal orders of in-stock items. Please refer to product page or our notification email for a shipping update of your pre-order.
*If your cart contain both in-stock and pre-order items, the shipment will depend on the estimated delivery date of pre-order item. For separate shipment, please contact us for further assistance.
All Wancher products are shipped from Japan and will be declared at the actual value of your order. Please be noticed that you are responsible for all customs and import fees when the parcel reached the destination country. We will not be responsible for any customs and import fees charged.

Since customs duty varies from country to country, the customs and import fee might be different depending on your shipping address. Please check with your country's regulations to calculate the fees.

If your parcel is returned to us because you fail to pay the customs duty, you can choose to have it reshipped (and pay for the shipping again) or cancel the whole order. For the latter option, we can refund your purchased products except for the shipping fee.

Please contact us email at info@wancherwatch.com or through Live Chat for prepaid custom option and/or inquiry about possible fee.
Wancher is committed to making your shopping experience a success. If you are not 100% satisfied with your online purchase, we will happily accept returns for a full refund or exchange any Wancher products purchased on the website for up to 30 days following delivery.

Proof of purchase or packing slip invoice is required for reimbursement of the full purchase price. In all cases, refunds will be made in the form of the original payment.

In case that the return product is not a damaged or defective item and/or because of personal reasons/preferences, we will deduct the original shipping fee and 10% re-stocking fee from the refund payment.

Returns and exchanges are subject to the following terms and conditions:

-Product must be returned in a new and unused state, in perfect condition with the Wancher original box or package, including all accessories and documents (if applicable). Wancher will not accept any return if the product shows signs of wear, or has been used or altered from its original condition in any way.

-Personalized products cannot returned to Wancher for exchange or refund.

-Watches that suffered age degradation, wear, physical damage cannot be returned

-If you have received free items as part of your order, they must be returned with the products unless you receive different instruction from our representatives.

-All returns will be subject to strict quality control by Wancher to ensure that the returned products satisfy these requirements. If the products do not meet the quality control standards, Wancher will refuse the return, and send back the products to the customer or recipient after informing the customer about the case. If the returned product satisfies the quality control standards, Wancher will process the applicable refund or exchange as soon as possible.

-Product is not from AS IS Sale collection
Should you have any question, please feel free to contact us at info@wancherwatch.com.